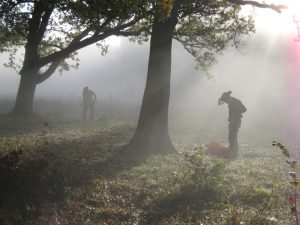 City & Guilds NPTC Certificates of Competence are life long qualifications, however refresher training by the Health & Safety Executive (HSE) is recommended to keep your skills & knowledge up to date and ensure you have not picked up any bad habits!
For machinery operations, including chainsaw & aerial tree work, the HSE recommends in INDG317 Chainsaws at Work that refresher training takes place every three to five years. Refresher Training is recommended every 5 years for regular users or 3 years for occasional users.
Click HERE for more information on Refresher Training (see particularly page 6 -7 of AFAG 805.)
Some of the refresher training we offer here at Land Skills –
Ground Based Chainsaw
Refresher – Chainsaw Maintenance & Cross-Cutting
Refresher- Felling & Processing Trees up to 380mm
Refresher – Felling & Processing Trees over 380mm
Aerial Tree Work
Refresher – Access a Tree Using a Rope & Harness and Aerial Tree Rescue Operations 
Refresher – Aerial Tree Rigging
Refresher – Thorough Examination of Arboricultural Lifting Equipment
Tree Inspection
Refresher – Professional Tree Inspection
Machinery
Refresher – Brushcutters & Trimmers
Pesticides
Refresher- Safe Use & Application of Pesticides Using Hand Held Equipment
If you require a type of refresher training that is not listed on our website please let us know as we maybe able to arrange this for you.
If you have a group of learners that all require the same refresher training we can arrange a course specifically for you – Just let us know.